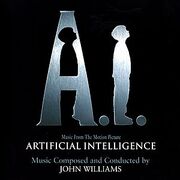 The A.I. Artificial Intelligence soundtrack is the soundtrack album containing the music of A.I. Artificial Intelligence, composed by John Williams.
Track listing
Edit
The Mecha World
Abandoned In the Woods
Replicas
Hide and Seek
For Always (Performed by Lara Fabian)
Cybertronics
The Moon Rising
Stored Memories and Monica's Theme
Where Dreams Are Born
Rouge City
The Search for the Blue Fairy
The Reunion
For Always (Duet performed by Lara Fabian and Josh Groban)
Ad blocker interference detected!
Wikia is a free-to-use site that makes money from advertising. We have a modified experience for viewers using ad blockers

Wikia is not accessible if you've made further modifications. Remove the custom ad blocker rule(s) and the page will load as expected.