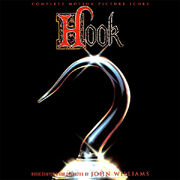 The Hook soundtrack is the soundtrack album containing the music of Hook, composed by John Williams.
Track listing
Edit
Prologue
We Don't Wanna Grow Up
Banning Back Home
Granny Wendy
Hook-Napped
The Arrival of Tink and the Flight to Neverland
Presenting the Hook
From Mermaids to Lost Boys
The Lost Boy Chase
Smee's Plan
The Banquet
The Never-Feast
Remembering Childhood
You are the Pan
When You're Alone
The Ultimate War
Farewell Neverland
Ad blocker interference detected!
Wikia is a free-to-use site that makes money from advertising. We have a modified experience for viewers using ad blockers

Wikia is not accessible if you've made further modifications. Remove the custom ad blocker rule(s) and the page will load as expected.