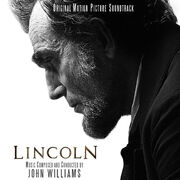 The Lincoln soundtrack is the soundtrack album containing the music of Lincoln, composed by John Williams.
Track listing
Edit
The People's House
The Purpose of the Amendment
Getting Out the Vote
The American Process
The Blue and Grey
With Malice Toward None
Call to Muster and Battle Cry of Freedom
The Southern Delegation and the Dream
Father and Son
The Race to the House
Equality Under the Law
Freedom's Call
Elegy
Remembering Willie
Appomattox, April 9, 1865
The Peterson House and Finale
With Malice Toward None (Piano Solo)
Ad blocker interference detected!
Wikia is a free-to-use site that makes money from advertising. We have a modified experience for viewers using ad blockers

Wikia is not accessible if you've made further modifications. Remove the custom ad blocker rule(s) and the page will load as expected.