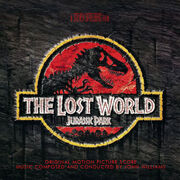 The Lost World: Jurassic Park soundtrack is the soundtrack album containing the music of The Lost World: Jurassic Park, composed by John Williams.
Track listing
Edit
The Lost World
The Island Prologue
Malcolm's Journey
The Hunt
The Trek
Finding Camp Jurassic
Rescuing Sarah
Hammond's Plan
The Raptors Appear
The Compys Dine
The Stegosaurus
Ludlow's Demise
Visitor in San Diego
Finale and Jurassic Park Theme
Ad blocker interference detected!
Wikia is a free-to-use site that makes money from advertising. We have a modified experience for viewers using ad blockers

Wikia is not accessible if you've made further modifications. Remove the custom ad blocker rule(s) and the page will load as expected.